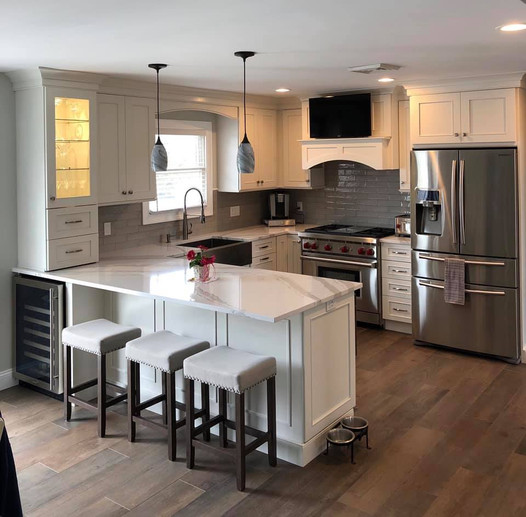 Kitchen Installations
Nassau & Suffolk
At Galant Kitchens, we strive to give our customers what they want and need by providing the best products the industry has to offer. Your kitchen remodel, upgrade, or new build needs to meet all of your requirements and be aesthetically pleasing as well. Having a kitchen you can be proud of is not out of your reach when you take advantage of all our full custom package kitchen has to offer.
FULL KITCHEN REMODEL Starting at $29,995.00
We will completely gut out your kitchen and rebuild it from the sub-floor up. Creating the Kitchen you always dreamed of!
CABINET & CABINETRY ONLY INSTALL Starting at $11,995.00
For those who want to do it themselves to keep the costs at a minimum, we can let you do so after your room has been prepped for new cabinetry. We will supply and install cabinets and countertops.
This Package Includes:
We offer bundle packages that can save you money in labor and components.
Each offering is based on a 10 x 10 kitchen with 12 cabinets.
Full Kitchen Remodel Package
This bundle starts at $29,995.00 and includes:
Kitchen Cabinet/Countertop Supply and Install-Only Package
This bundle starts at $11,995.00 and includes:
We can also offer you the kitchens of American Made Brighton Cabinetry, giving you the ability to create a beautiful new kitchen. Whether you lean towards classic designs or prefer to create your own style, their choices of fully customizable cabinet options will give you the full-custom kitchen you want. Brighton Cabinetry offers the finest in traditional and contemporary kitchens.
Contact Galant Kitchens to set up a free estimate and for any questions, call (631) 586-0515, or browse our website for more information about our products and services.
Licensed and Insured H49347